Sémafor Conseil's learning program highlights for each function the courses a practitioner can attend to further his professional skills and experience. From beginner level to expert, our course program can support you in the development of your professional acumen.
In order to closely match reality, the program is focused on hands-on learning and based on real life case studies.
The purpose of each course is to acquire the efficient knowledge to stay in the loop of cybersecurity's latest techniques. Most courses are provided over 5 full days, others over 3 full days, fully immersed in the daily reality of cybersecurity .
Case Study #1
Rodpicom Botnet sends a message to the victim with a link to a malicious site that leads to downloadable content. The link content contained malware, which causes CPU overloads on a small advertising company customer. The company's SOC team was asked to check the security logs on the web-server for further investigation.
Case Study #2
In the last few months, multiple groups of attackers successfully compromised corporate email accounts at various firms, using phishing techniques. As part of the security team, we need your help to find leads to the attacker.
Case Study #3
A former Yahoo employee has pleaded guilty to misusing his access to hack into the accounts of nearly 6,000 Yahoo users. We need your help to investigate the incident
Case Study #4
Over the past few months, hundreds of Android users have been complaining about a new piece of mysterious malware. Our company uses the system "Security Onion", and we need your help analyzing the logs it generated by the malware traffic.
Case Study #5
The web hosting company, Hostinger, has suffered a data breach. Using the access token, the hackers infiltrated a SQL database server and found a file containing a list holding millions of hashed passwords and usernames. Following the incident, the CEO hired a group of Cyber Security professionals, to work together and close the vulnerability that allowed the hackers to infiltrate the network and steal the file.
Cyberium Arena
LMS & Simulator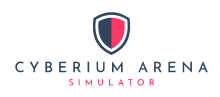 The CYBERIUM ARENA is a high-end cybersecurity Learning Management System and Simulator, which trains participants in the use of a wide variety of on-line tools for identifying the nature of a cyber attack and responding quickly and appropriately to prevent damage and disable the attacker.
Cyber Learning Educational Process
Courses open for enrolment
Our approach is to give the participants the opportunity to apply their acquired knowledge directly with hands-on exercises and case studies; we aim for a high ratio, which hits an average over our complete course portfolio/