Penetration testers face a combination of intrusion detection systems, host-based protection, hardened systems, and analysts that pour over data collected by their security information management systems.
Penetration tests help find flaws in the system to take appropriate security measures to protect the data and maintain functionality.
This training will provide the participant with a steppingstone on how to use penetration testing in practice and take on the complex and task of effectively measuring the entire attack surface of a traditionally secured environment.
How to make the most of this course?
In order to succeed in the course, the following requirements must be met:
Participation in all practical laboratories
Self-work at home between lessons
Repetition of materials, self-learning, performing tasks, etc…
In addition to regular classroom studies, the participant is required to practice at least 10 hours a week in order to gain practical experience in the field.
A personal computer suitable for running virtual machines, with an Internet connection
Transition of the scenarios in the Cyberium Arena.
Security Analysts
Risk Managers
Security Officers
System Managers
Architects
Penetration Testers
Becoming familiar with Penetration
Testing existing security weaknesses
Gathering information
Bypass security and attack the network
ThinkCyber Level-1 Courses
The following labs are part of the actual BT212 course:
Lab 1 Passive Information Gathering
Lab 2 Finding Web directories and Files
Lab 3 Active Information Gathering
Lab 4 Identifying Vulnerability and Exploits
Lab 5 Finding a Way
Lab 6 Post Exploitation and Evidence Gathering
Lab 7 Post Exploitation and Evidence Gathering
Lab 8 Maintaining Access
Lab 9 Analyzing Captured Images
Lab 10 Researching Security Solutions
Case Study #1 (PT001)
An administrator got informed that his domain was under a phishing attack. One of the employees fell for the phishing attempt, and the hacker got access to the domain website.
Reference
Case Study #2 (PT002)
A developer is working on a big organization website; you are being asked to prove your cyber capabilities before conducting penetration testing. Remember that any scan that would do too loud will get you blocked.
Reference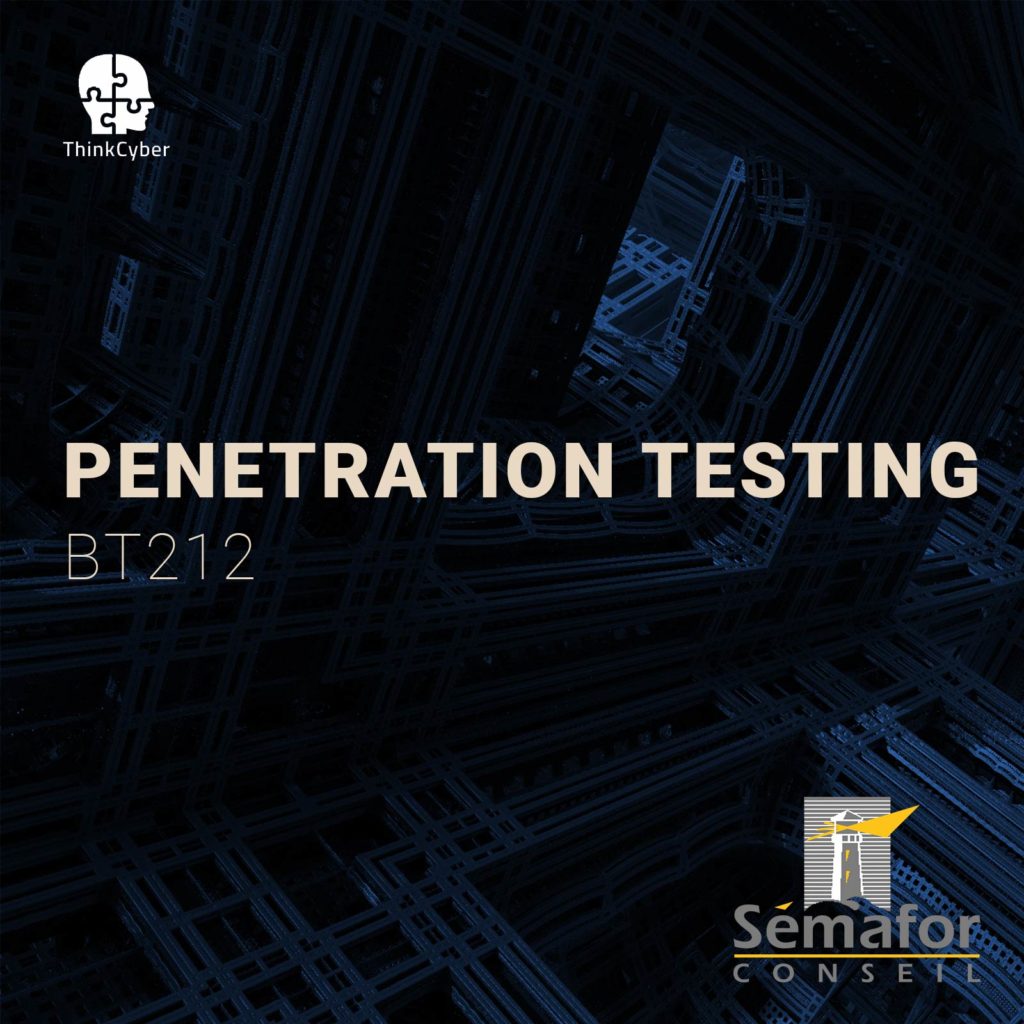 Course type

This course is delivered in the following ways:
Virtual classroom with proctored labs and scenarios executed in our Cyberium Arena
In situe classroom with proctored labs and scenarios executed in our Cyberium Arena
All sessions are recorded and attendees can replay them  during 30 days. All course material is electronically made available to the participant.
 Hands-on / Theory MiX

The following course incorporates a high level of hands-on labs exercises, as well as real life case studies.
Certification

This course prepares the participant to the following certification:
CEH (EC|Council)
PenTest+ (CompTIA)
GPEN (SANS)
Required EqUIPMENT

Network connection
As this course extensively uses a cloud based Learning Management System, including a lab arena, attendees need a stable broadband connection to the Internet.
BYOD – Bring Your Own Device
As it is a very practical course, and in order for the participants to make the most of the course, they need a laptop with the following capabilities:
Audio and Video
8 GB RAM
200 GB Disk Space
Virtualization capabilities ( supporting latest version of Virtualbox or similar virtual machine application)
And also a Good Headset with Mic