This training is an advanced course that covers topics in the Red-Team Cyber Warfare methodologies. The participants will get an in-depth look into the mind of a Black-Hat hacker.
The training includes defense and offense and takes a deep dive into its practical world using the CYBERIUM ARENA simulator. Participants will learn the different information-gathering tools and security bypassing products that can be leveraged to attack against every layer of defense.
How to make the most of this course?
In order to succeed in the course, the following requirements must be met:
Participation in all practical laboratories
Self-work at home between lessons
Repetition of materials, self-learning, performing tasks, etc…
In addition to regular classroom studies, the participant is required to practice at least 10 hours a week in order to gain practical experience in the field.
A personal computer suitable for running virtual machines, with an Internet connection
Transition of the scenarios in the Cyberium Arena.
IT Professionals and Organizations that would like to embrace Red-Team's capabilities
Acquiring the knowledge and tools to become a better Red-Team member
Becoming familiar with a variety of available tools for performing security-related tasks
Becoming familiar with a variety of attack scenarios
Understanding different attack possibilities
Using automation as a Red-Team member
ThinkCyber Level-2 Courses
The following labs are part of the actual RT420 course:
Lab 1 Advanced Web-Discovery
Lab 2 Network Attacks
Lab 3 Gaining Access
Lab 4 Privilege Escalation
Lab 5 Maintaining Persistence
Lab 6 Pivoting and Tunneling
Lab 7 Controlling the Network
Lab 8 Command and Control
Lab 9 Red-Team PowerShell
Lab 10 Working with VPNs
Lab 11 Securing Linux
Lab 12 Securing Windows
Case study #1 (CW001)
Tether is the first blockchain-enabled platform to enable payment using digital currency. As a hacker from an unknown organization, you have identified this as an opportunity to make some cash. Your mission is to gain information about the target to steal digital tokens.
Reference
Case study #2 (CW002)
As an Instagram enthusiast and a bug hunter – you were looking for some more fame over the social network. You have discovered that Instagram has a fragile password policy, and you're going to let it play to your advantage.
Reference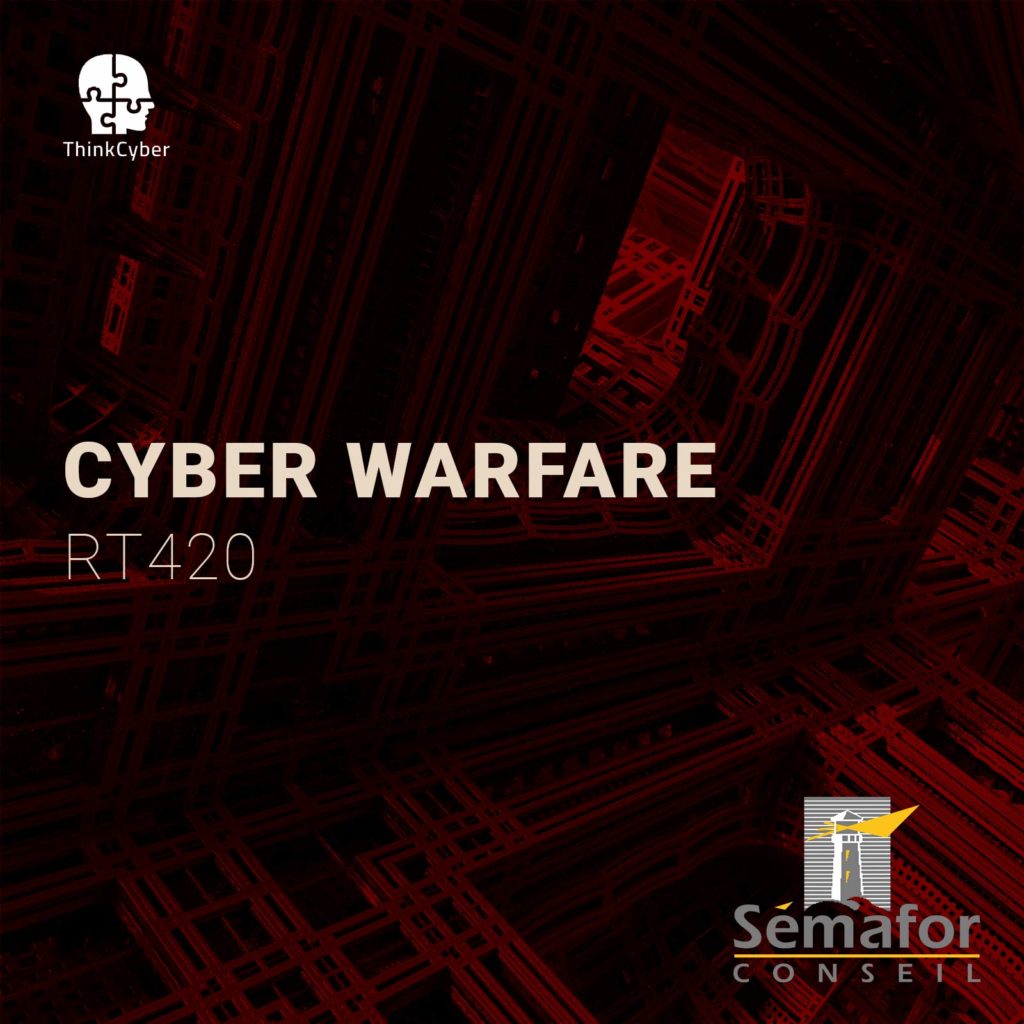 Course type

This course is delivered in the following ways:
Virtual classroom with proctored labs and scenarios executed in our Cyberium Arena
In situe classroom with proctored labs and scenarios executed in our Cyberium Arena
All sessions are recorded and attendees can replay them  during 30 days. All course material is electronically made available to the participants.
 Hands-on / Theory MiX
The following course is incorporates a high level of hands-on labs exercises, as well as real life study cases:
Certification

This course prepares the participant to the following certification:
OSCP (Offensive Security)
Required EqUIPMENT

Network connection
As this course extensively uses a cloud based Learning Management System, including a lab arena, attendees need a stable broadband connection to the Internet.
BYOD – Bring Your Own Device
As it is a very practical course, and in order for the participants to make the most of the course, they need a laptop with the following capabilities:
Audio and Video
8 GB RAM
200 GB Disk Space
Virtualization capabilities ( supporting latest version of Virtualbox or similar virtual machine application)
And also a Good Headset with Mic