Malware Analysis is the study and close examination of malware to understand its origins, purpose, and potential impact on the system. Malware analysts accomplish their tasks by using various tools and expert-level knowledge to understand not only what a piece of malware can do but also how it does it.
This course provides participants with the practical skills and knowledge to be able to analyze malware and exposes them to a critical set of tools required for their tasks.
How to make the most of this course?
In order to succeed in the course, the following requirements must be met:
Participation in all practical laboratories
Self-work at home between lessons
Repetition of materials, self-learning, performing tasks, etc…
In addition to regular classroom studies, the participant is required to practice at least 10 hours a week in order to gain practical experience in the field.
A personal computer suitable for running virtual machines, with an Internet connection
Transition of the scenarios in the Cyberium Arena.
The course targets participants with a foundation understanding of the internet, who wish to gain advanced capabilities in open-source intelligence.
Cybersecurity practitioners
Cyber forensics analysts
Security engineers/researchers
Incident responders
Junior malware analysts
Software developers
IT security administrators
Malware analysis using both Dynamic and Static analysis methods
Assembly language to examine malware
Reverse engineering malware using various tools
The first glimpse into Windows kernel
ThinkCyber Level-1 courses
The following labs are part of the actual BT220 course:
Lab 1 Introduction to Malware Analysis
Lab 2 Advanced DNS Monitoring
Lab 3 Extracting Malware from Data Segments
Lab 4 Analyzing Processes
Lab 5 Basic Static Analysis
Lab 6 Basic Dynamic Analysis
Lab 7 Network Traffic Monitoring with Wireshark
Lab 8 Registry Analysis
Lab 9 Assembly Basics
Lab 10 Assembly x86 Programming
Case study #1 (MA001)
A power company named City Power was attacked by ransomware that caused South Africa's financial capital Johannesburg to be left without power. The ransomware encrypted all of the company's database. As the malware analysis expert of the company, you have been assigned to analyze the malware.
Reference
Case study #2 (MA002)
A group of security researchers discovered a new super-advanced malware that infected a European energy company. One of the malware's abilities is to dismantle anti-virus processes. It also contains anti-analysis features. You have been assigned to initiate an analysis of the malware.
Reference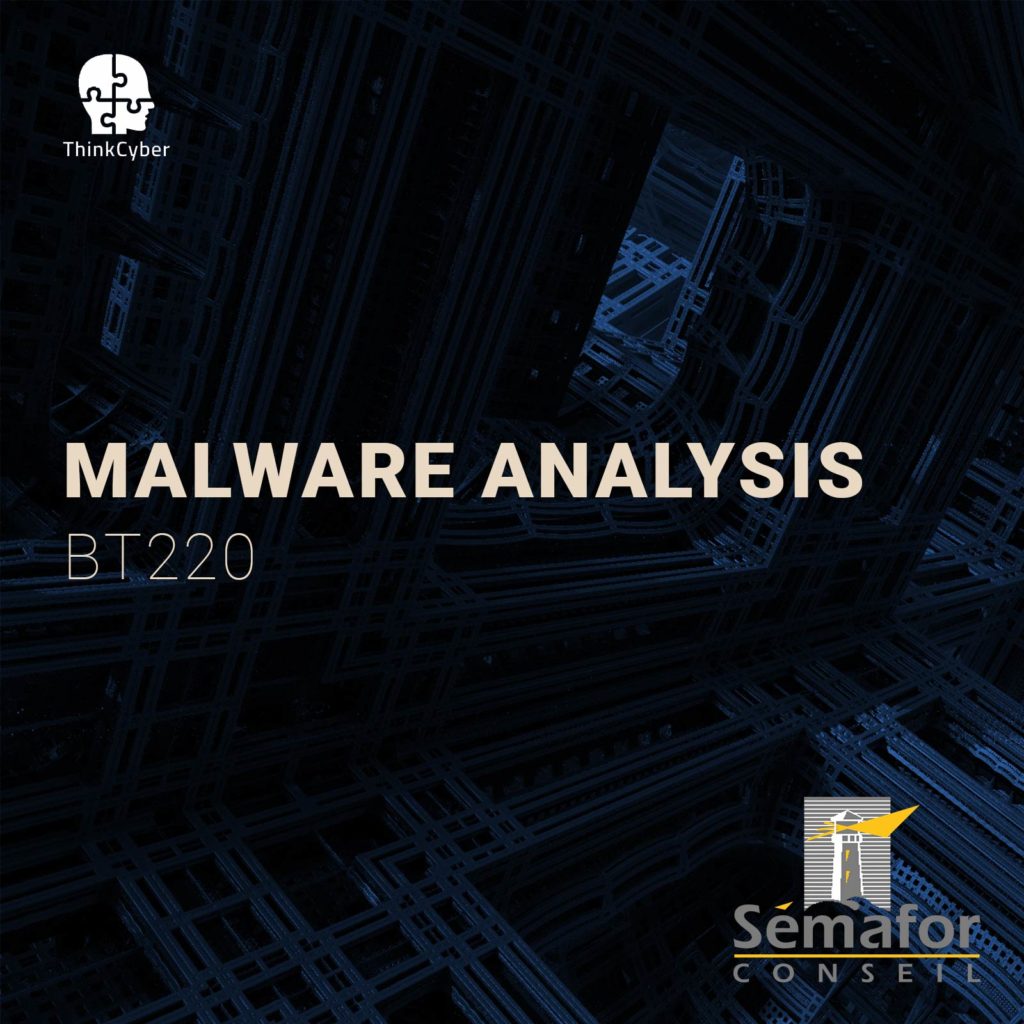 Course type

This course is delivered in the following ways:
Virtual classroom with proctored labs and scenarios executed in our Cyberium Arena
In situe classroom with proctored labs and scenarios executed in our Cyberium Arena
All sessions are recorded and attendees can replay them  during 30 days. All course material is electronically made available to the participant.
 Hands-on / Theory MiX

The following course incorporates a high level of hands-on labs exercises, as well as real life case studies.
Certification

This course prepares the participant to the following certification:
Required EqUIPMENT

Network connection
As this course extensively uses a cloud based Learning Management System, including a lab arena, the attendees need a stable broadband connection to the Internet.
BYOD – Bring Your Own Device
As it is a very practical course, and in order for the participants to make the most of the course, they need a laptop with the following capabilities:
Audio and Video
8 GB RAM
200 GB Disk Space
Virtualization capabilities ( supporting latest version of Virtualbox or similar virtual machine application)
And also a Good Headset with Mic